Who do you imagine wrote the best love letter of all time?
Would it be the romantic English poet John Keats or the famous writer Ernest Hemingway? How about Beethoven, known for his fiery and passionate musical compositions?
If not them, then how about one of those legendary couples celebrated for their undying love? Napoleon Bonaparte and his Josephine come to mind as well as Richard Burton and Elizabeth Taylor.
Nope not one of those…
The winner for the best love letter of all time goes to Johnny Cash.
In a poll conducted by the British life insurance company, Beagle Street as a way to encourage Brits to be more romantic this February 14th, the country singer's Birthday letter to his wife beat out famous bards like Keats and Hemingway as well as King Henry the VIII, Churchill, and Napoleon.
In the 1994 note written to his wife, June Carter Cash for her 65th birthday, the singer calls her, "the object of my desire", and the "#1 Earthly reason for my existence".
Happy Birthday Princess,
We get old and get use to each other. We think alike. We read each others minds. We know what the other wants without asking. Sometimes we irritate each other a little bit. Maybe sometimes take each other for granted.
But once in awhile, like today, I meditate on it and realize how lucky I am to share my life with the greatest woman I ever met. You still fascinate and inspire me. You influence me for the better. You're the object of my desire, the #1 Earthly reason for my existence. I love you very much.
Happy Birthday Princess.
John
The story of the undying love between Johnny Cash and his second wife June Carter Cash has been well-documented, most recently in the film, Walk the Line, starring Joaquin Phoenix and Reese Witherspoon.
After a passionate love affair, the two married and stayed together for a total of 35 years, only to separate after the death of June in 2003 due to heart surgery complications. Two months after her passing Johnny Cash wrote yet another love letter to his deceased wife:
July 11 2003
Noon
I love June Carter, I do. Yes I do. I love June Carter I do. And she loves me. 
But now she's an angel and I'm not. Now she's an angel and I'm not.
An Enduring Love
The famous country singer never really got over the heartbreak of losing his beloved June. He would pass himself, a mere four months after her death. In his last performance ever, he gave a tribute to her stating:
"The spirit of June Carter overshadows me tonight with the love she had for me and the love I have for her. We connect somewhere between here and heaven. She came down for a short visit, I guess, from heaven to visit with me tonight to give me courage and inspiration like she always has."
Watch this legend as he gets choked up speaking of the love they shared. (Minute 4:10):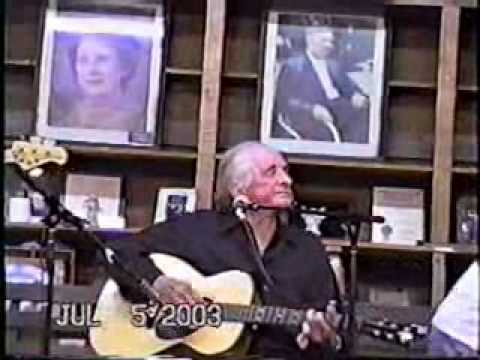 Other love letters that made the top 10 in the Beagle Street poll were those composed by Winston Churchill, John Keats, Ernest Hemingway, Gerald Ford and Jimi Hendrix.